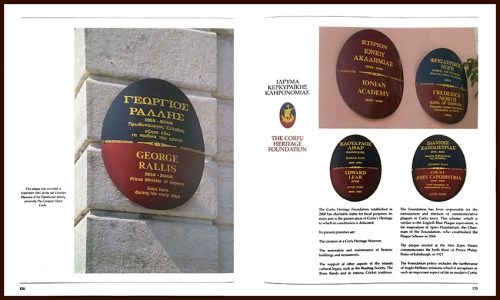 As reported in the book "Corfu: The Garden Isle", pp. 124-125: "The Corfu Heritage Foundation's aim is the preservation of Corfu's Heritage to which its constitution is dedicated […] The Corfu Heritage Foundation, established in 2000, has been responsible for the introduction and erection of commemorative plaques in town. This scheme, which is similar to the English Blue Plaque equivalent, is the inspiration of Count Spiro Flamburiari, the Chairman of the Foundation, who established the plaque scheme in 2004".
The main purpose of the Corfu Heritage Plaques is educational. Our vision is to disseminate knowledge about local history. This can be taught to students led by teachers in a peripatetic way all along Corfu Old Town. Our rationale is that this town has the peculiarity of being full of sites that concern historical places and people. It is worth making an effort to culturally map the town that will allow us on the one hand to consider where commemorative plaques could be placed (it is already possible to notice the existing ones in various parts of the town) and on the other hand how walking tours of tourist history and student education could be drawn up.
We are addressing the general public, who would like to be informed about the local history of the town. Our goal is to demonstrate its rich history with points that will be marked on the map. This research will lead to an online guide that will bring attention to these points. On the other hand, it will allow us to mount commemorative plaques, which would inform the passing tourists or guide the interested students or citizens in pre-planned cultural tours led by a printed manual/map or trained guides.
With this in mind, we are gathering information about remarkable points related to places and people on the specific map that is limited to Corfu Old Town. For this reason, we welcome you to help us gather data on historical landmarks throughout the town and locate them on this map.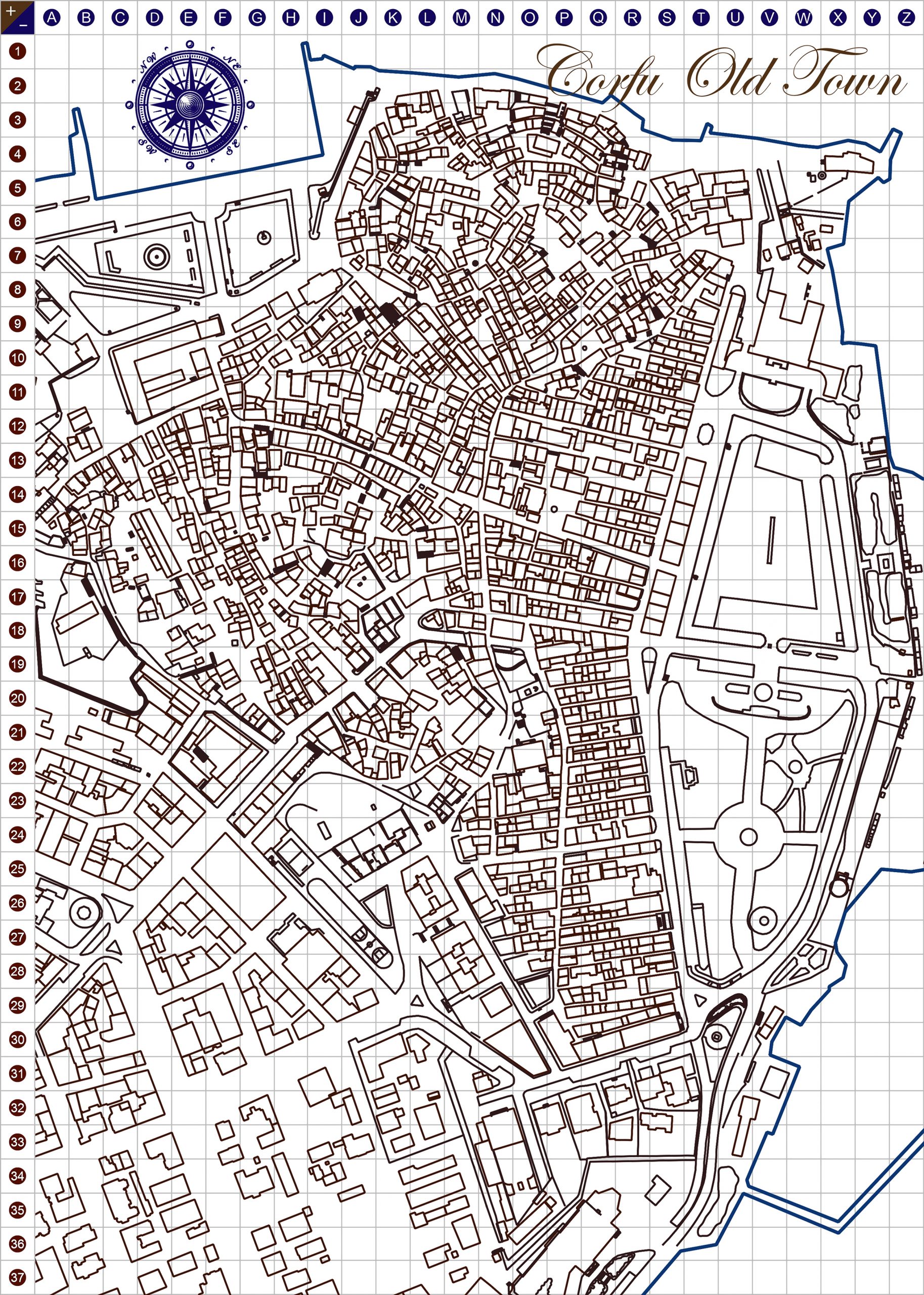 Cultural Map of Corfu Old Town
Curated by Megakles Rogakos, MA MA PhD
Places [△ ▽ ◁ ▷]
Anglican Church of St George (1840), built by major-general in the Royal Engineers Anthony Emmett (1790-1872). Old Venetian Fortress. [▷]
Annunziata (1394), belfry of the Venetian church and monastery of the Annunciation, bombed by the German air force in 1943, 56 Vrachlioti Street. [L|18]
Bandstand of Napoleon Zambelis (1905), designed by Angelos Giallina based on a Victorian model of 1869 in London's Hyde Park. [U|24]
Catholic Cathedral of Ss Christopher & James (1553), seat of the Archdiocese, Old Town Hall Square. [P|19]
Catholic Church of St Francis of Assisi (1367), built over the monastery of St Angelos (1214). It housed the School of Fine Arts in 1811. [H|12]
Catholic Church of Virgin Mary of Tenedos (1678), housed the first municipal library in 1797 and the Académie Ionienne in 1808. Solomou Street. [A|14]
Cavalieri Hotel (1650), originally built as a nobleman's mansion belonging to the family of Count Flamburiari, since 1967 in its current capacity. [S|28]
Corfu Reading Society (1836), the oldest cultural institution in modern Greece, based on the Société de Lecture de Genève. 120 Kapodistriou Street. [U|7]
Angelos Giallina Mansion (1650), since 1993 Gallery & Foundation, revised by Ioannis Chronis in 1840. The painter, Angelos Giallina (1857-1939), lived here, 12 Kapodistriou Street. [S|25]
Girls School (1829), run in 1846-1852 by Charlotte Augusta Wadams (1812-1888), second wife of Andreas Kalvos. [P|10]
Antonio Cantoni Mansion (1850), designed by Ioannis Chronis. 36 Kapodistriou Street. [R|19]
John Capodistria Mansion (1840). John Capodistria (1776-1831) was born in the old building. The successor was designed by Ioannis Chronis in 1832. 122a Kapodistriou Street. [U|5]
Cobitsi Mansion (1680), build by Daniel Cobitsi from Crete. 43-49 Nikiforou Theotoki Street. [L|14]
Halikiopoulos-Bizis Mansion (1490), old feudal family. 40 Filarmonikis Street. [N|13]
Lascari Mansion (?). 35 Arseniou Street. [N|2]
Markoras Mansion (?), politician Georgios (c. 19th) and poet Gerasimos (1826-1911), lived here, 6 Prosforou Street. [N|4]
Mylonopoulos Mansion (?), the site of the first building to house the Corfu Reading Society in 1836. [L|2]
National Bank of Corfu, now Ionian Islands Region headquarters, designed by Nikolaos Zoumboulidis in 1939. [I|8]
Palatianos Mansion (1862), designed by Francesco Rivelli. 124 Kapodistriou Street. [U|5]
Petrettinis Mansion (?), old feudal family. 51 Nikiforou Theotoki Street. [L|13]
Petrettinis Mansion (?), the building in which Protopope Dimitrios Petrettinis baptised Lord Frederick North, Earl of Guilford, in 1791. 10 Kapodistriou Street. [S|27]
Prossalendi Mansion (c. 1650), governor Count Theodoros (1664-1728), priest Don Francesco (1679-1728), sculptor Paolo (1784-1837), lived here. [Q|7]
Dionysios Solomos Mansion (c. 1650), now a museum. The national poet, Dionysios Solomos (1798-1857), lived and died here, 2 Theodorou Makri Street. [L|2]
Voulgaris Mansion (?), patron of Saint Spyridon of Corfu, tracing its origins to the Serbian despot Stefan Lazarević (1377-1427). Lived here. [K|5]
Ionian Academy (1824-1864), the first Greek university founded by Lord Frederick North, 5th Earl of Guilford, since 1984 as the Ionian University. [S|30]
Ionian Bank (1845), designed by Ioannis Chronis. Now Banknote Museum. Heroes of Cypriot Struggle Square. [O|14]
Ionian Parliament (1855), designed by Ioannis Chronis. Now museum dedicated to the struggles for the freedom of the Ionian Islands. [M|25]
Liston (1807), construction built by Mathieu de Lesseps (1771-1832) and Ioannis Parmesan (1748-1826) on a design inspired by the Rue de Rivoli (1804), Paris. [S|16]
Maitland Rotunda (1821), built by George Whitmore in 1821 to honour Sir Thomas Maitland (1760-1824), 1st Lord High Commissioner, Upper Esplanade. [V|10]
Municipal Theatre of Corfu (1902-1943), designed by Conrado Pergolesi on the basis of La Scala of Milan and redesigned by Perikles A. Sakellarios in the 1970s. [F|25]
Nobile Teatro di San Giacomo (1693), originally built as Loggia, the first modern theatre on Greek soil in operation between 1733 and 1893. [N|18]
Palace of Ss Michael & George, now Museum of Asian Art of Corfu, built by General Sir George Whitmore in 1819-1824, Lower Esplanade. [V|10]
Porta Reale (1578), designed by Ferrante Vitelli, in the western wall, on the foundations of the old church of St Martyr Nike, demolished in 1893. [H|22]
Porta San Nicolò (1821), integrated in the former Military Hospital of Corfu. [F|9]
Post Office (?), bombed by the German air force in 1943. [F|7]
Orthodox Church of the Holly Fathers (c. 1500), housing the Ecclesiastical Museum of the Metropolis. 16 Agion Pateron Street. [I|15]
Orthodox Church of Ss Antony & Andrew (1350). Byzantine Icons. Carrara marble iconostasis. End of Nikiforou Theotoki Street. [G|12]
Orthodox Church of Ss Basil & Stephen (?). 62 Nikiforou Theotoki Street. [M|14]
Orthodox Church of St John the Baptist (1480), where Nikiforos Theotokis served as pastor. 9 Sevastianou Byway. [O|15]
Orthodox Church of St Nicholas (?), bombed by the German air force in 1943. [F|8]
Orthodox Church of San Nicolò dei Vecchi (1500), tombs for the Battle of Nafpaktos (1571). Tzanes (Crucifixion). 46 Sofokli Dousmani Street. [O|10]
Orthodox Church of Virgin Mary Antivouniotissa (c. 1475), now Museum of Christian Art. 25 Arseniou Street. [O|4]
Orthodox Church of Virgin Mary Kremasti (c. 1550), called after the oil lamp hung in front of its outer wall. 25 Petridou Street, Venetian Well Square. [M|7]
Orthodox Church of Virgin Mary Mandrakina (c. 1550), Boschetto. [Y|13]
Orthodox Church of Virgin Mary of Ypapanti (c. 1600), single-aisled wooden-roofed basilica, bombed by the German air force in 1943. [J|5]
Orthodox Church of Virgin Mary of Foreigners (1689). Works by Koutouzis (ouranía), Tzanes (St Anthony), Prossalendi (iconostasis). 25 Nikiforou Theotoki Street. [P|15]
Orthodox Church of Pantokrator (1525), crowned by the Angel of Giuseppe Torretti (1661-1743). Taxiarches Square, Campiello. [Q|6]
Orthodox Church of St Sophia (?). 59 Nikiforou Theotoki Street. [H|20]
Orthodox Church of St Spyridon (1589), dedicated to the patron saint of Corfu, 32 Agiou Spyridonos Street. [P|12]
Orthodox Metropolitan Church of Virgin Mary Spiliotissa (1577). 1 Mitropoleos Street. [L|10]
Synagogue Eichal – Scuola Greca (1650). 4 Velisariou Street. [E|17]
People [△ ▽ ◁ ▷]
Statue of General Sir Frederick Adam (1781-1853), Lord High Commissioner of the Ionian Islands in 1824-1832, created by Paolo Prossalendi in 1832. [V|11]
Margherita Albana-Mignaty (1821-1887), Scholar and author. Born here, 124 Kapodistriou Street. [U|5]
Elena Angri (1824-1886), Mezzo-Soprano. Lived here, 90 Kapodistriou Street. [S|12?]
Borri (1842-1924), Photographer. Had a studio here, 122 Agiou Spiridonos Street. [P|12?]
Stabilimento Fotografico di Bartolomeo Borri e figlio operated here, 80 Kapodistriou Street, since 1890. [S|14]
Vincenzo Boccheciampe (1856-1933), Painter. Lived here, 22 Mitropoleos Street / Dragoneti & Magistrate Gidas Street. [J|13]
Statue of Count John Capodistria (1776-1831), 1st Governor of Greece, created by Leonidas Drossis in 1886, Upper Esplanade. [T|30]
Joseph Cartwritght (1789-1829), English Painter. Lived here, Street? [?]
Maria Desylla-Kapodistria (1898-1980), Mayor of Corfu. Lived here, Street? [?]
Irene Dentrinou (1879-1974), Writer & Feminst. Lived here, 120 Kapodistriou Street. [U|7]
Panagiotis Doxaras (1662-1729), Painter & Founder of the Heptanese School. Buried here on 12/2/1729, St Spyridon Church. [P|12]
Memorial to Gerald Durrell (1925-1995), British naturalist and author, by Eva Caridi in 2008, Boschetto. [Y|15]
Memorial to Lawrence Durrell (1912-1990), British author and journalist, by Eva Caridi in 2008, Boschetto. [Y|17]
Statue of Lord Frederick North, 5th Earl of Guilford (1766-1827), Archon of the Ionian Academy, created by Kosmas Apergis in 1883, Boschetto. [Y|1]
Nikolaos Halikiopoulos-Mantzaros (1795-1872), Composer & Founder of the Ionian School of Music. Born here, Agias Varvaras Street. [M|15]
Andreas Idromenos (1764-1843), Priest & Scholar. Lived here, Street? [?]
Lykourgos Kogevinas (1877-1940), Painter & Engraver. Lived here, Street? [?]
Edward Lear (1812-1888), English Author & Painter. Lived here, 7 Donzelot Street [J|4]
Relief portrait of Simone Leon, Commander of the Venetian Army during the Ottoman invasion in 1537. Petreti Mansion, 51 Nikiforou Theotoki Street. [L|13]
Andrea Marmora (1618-1684), Historian & Knight of San Marco. Born here, Corfu Philharmonic Society, 10 Nikiforou Theotoki Street. [?]
Lorentzos Mavilis (1860-1912), Lyric Poet & Chess Expert. Lived here, 3 Mavili Street. [Q|26]
Andrea Mustoxidi (1785-1860), Historian & Philologist. Lived here, Street? [?]
Charalambos Pachys (1844-1891), Painter. Lived here, Street? [?]
Despina Papa-Lekka (1885-1971), Doctor. The first Greek woman doctor. Was born here. Now Konstantinoupolis Hotel, 11 Zavitzianou Street. [G|9]
Aglaia Pappa (1903-1984), Painter. Was born here. 12 Eparchou Street. [Q|22]
Marios Pieris (1776-1852), Writer & Poet. Lived here, Street? [P|3]
Spyridon Pizanis (1870-1927), Painter, lived here, 5 Ioniou Voulis Street. [N|23]
Bust of Iakovos Polylas (1826-1898), Writer & Critic. Lived here in a house bombed by the German air force in 1943, Town Hall Square. [O|19]
Georgios Rallis (1918-2006), Prime Minister of Greece from 1980 to 1981. Born here, 4 Kapodistriou Street. [S|28]
Bust of Georgios Rallis (1918-2006), Prime Minister, work by Eva Caridi in 2008. Cofineta. [T|12]
Spyridon Samaras (1861-1917), Composer. He composed the "Olympic Anthem" with lyrics by Palamas in 1958. Born here, Street? [?]
Georgios Samartzis (1868-1925), Painter. Lived here, 74 Nikiforou Theotoki Street. [J|13]
Spyridon Scarvelli (1868-1942), Painter. Lived here, 15 Leontos Street. [S|10]
Statue of Marshal Johann Matthias von der Schulenburg (1661-1747), defender of Corfu vs the Ottomans in 1716, by Antonio Corradini the same year. [Y|19]
Stefanos Sgouros (1924-2017), Painter. Lived and died here, 44 Gylford Street [P|22]
Bust of Dionysios Solomos (1960), National Poet, work of Sculptor Michael Tombros (1889-1974). Polytechnic Fighters Street [X|26]
Xenophon Stratigos (1869-1927), Major General & Politician. Lived and died here, Street? [◁]
Countess Isabella Teotochi-Albrizzi (1760-1836), Writer. Born here, Street? [?]
Konstantinos Theotokis (1872-1923), Novelist of Literary Realism. Lived here, 12 Kapodistriou Street. [S|25]
Georgios Theotokis (1844-1916), Prime Minister of Greece in 1899-1901 & 1903-1904. Born here, Corfu Philharmonic Society, 10 Nikiforou Theotoki Street. [Q|16]
Nikiforos Theotokis (1731-1800), Scholar & Archbishop. Born here, Mantzaros Philharmonic Society, 23 Philharmonikis Street. [N|12]
Pericles Tsirigotis (1865-1924), Painter. Lived here, Street? [?]
Nikolaos Ventouras (1899-1990), Artist & Engraver. Lived here, Sofokleous Dousmani Street? [U|6]
Eugenios Voulgaris (1716-1806), Philosopher & Theologian. Born in a building inside the Old Fortress, during the end of the siege. [▷]
Sir Petros Vrailas-Armenis (1812-1884), Philosopher & Politician. Professor of Philosophy at the Ionian Academy. Lived here, Street? [?]
The Monument of the Union (1970), work of the Painter & Sculptor Rena Croizier (1945). Upper Esplanade. [V|20]
Spyros Xyndas (1814-1896), Composer. The first composer to write an opera to Greek libretto. Lived here, Street? [?]
Markos Zavitzianos (1884-1923), Painter & Engraver. Together with Theotokis, he organised the Socialist Centre of Corfu in 1909. Lived here, Street? [?]
Bust of Konstantinos Zavitzianos (1878-1951), Politician, created by Achilles Apergis. [F|9]